What is Senior Home Companions?
Senior Home Companions provides referrals for the highest quality, loving homemaker/companions, certified nursing assistants, and RN's. We help people in need of assistance with daily living activities (ADLs) due to injury, illness, surgery, aging issues, dementia and Alzheimer's. Senior Home Companions is a private, locally owned and operated Georgia business established in 1993. We are not a national franchise. We meet with potential clients (and their families) to ensure a personal connection and to design an individualized and personal care plan. We pride ourselves on carefully matching the most talented, highest quality caregiver to meet the special needs of each special situation. The caregivers we refer are available for ...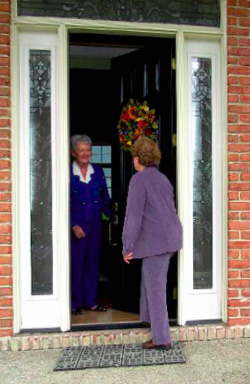 Hourly
Overnight Care
24-Hour Care
Temporary or Long Term
Senior Home Companions can make it possible for your loved one to comfortably remain in the home of their choice while offering peace of mind to you and them. We understand that for most families, it is a major step to allow someone new into their home. To help with this transition, we personally interview each caregiver. In addition to checking references a thorough background check for criminal and motor vehicle violations is completed. Each caregiver we refer to a client is reliable, compassionate, trustworthy, and offers a level of maturity coupled with a lifetime of experience and caring.
What makes Senior Home Companions Unique?
Personalized Service - Clients have 24-Hour contact available with our office. You will deal only with the founder, business manager, or select office employee who knows each client, caregiver and your special situation.

Stellar Reputation - with over 25+ years of experience in referring the best in quality senior assistance, we feel providing this care is about personal relationships, not about business.

Local Ownership and Operation - we are not a franchise. We handle a limited number of clients to ensure we know them and they know us. Quality not quantity is what we strive to achieve.

Careful Matching of Caregivers with Clients - We ensure that clients have the same caregiver helping them each time. We feel it is more distributive than helpful having different caregivers coming in and out of the home. We want them to get to know you and you to get to know them.

Compelling/Competitive Rates - We are able to offer among the most competitive rates in the area because we do not have to pay franchise fees. In addition, this allows us to provide our caregivers with the highest compensation in the industry while offering our clients some of the best rates available.

Compassionate/Quality Caregivers - We are extremely selective in choosing the caregivers we represent. They all have backgrounds in caring for others. The vast majority of our caregivers are 50 years and older who can relate well to our clients. Many of these caregivers have been with us since the company started over 20 years ago.
Please call Senior Home Companions
for a complimentary home visit
(770) 642-9208